E-DENTAL
Family & Cosmetic Dentistry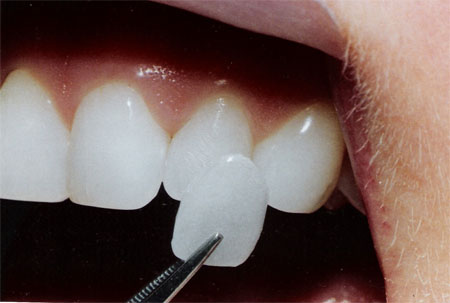 dental veneers
Veneers, usually customized from porcelain, are a thin, semi-translucent "shell," permanently bonded to your teeth.
While they're not suitable for every patient, veneers are a cosmetic alternative for a variety of dental conditions of the front teeth, including:
Diastemas (spaces between the teeth)
Broken or chipped teeth
Unsightly, stained or washed out fillings
Permanently stained or discolored teeth
Misshapen or crooked teeth
Advantages and Benefits of Veneers
At one time, resin fillings or crowns were the only available treatment for these conditions. Today, a third alternative is available. There are many benefits and advantages to having porcelain veneers placed on your front teeth.
The advantages of veneers may include all of the following considerations:
Only a small amount of tooth structure (if any) is removed during the procedure.
A healthy "natural" look is achieved with little or no discomfort.
How are Porcelain Veneers Done?
Similar to a resin bonding procedure, veneers are attached directly to the existing tooth structure. An impression will be taken, to make an exact replica of your teeth. During your veneering appointment, your teeth will be etched with a mild acid solution. When the veneers are applied, a tooth-colored liquid bonding material is applied. This helps the veneers adhere to your natural teeth.
Schedule Appointment
From Crowns to Cleaning – We Do It All!
Complete the form below and one of our staff will contact you to confirm