E-DENTAL
Family & Cosmetic Dentistry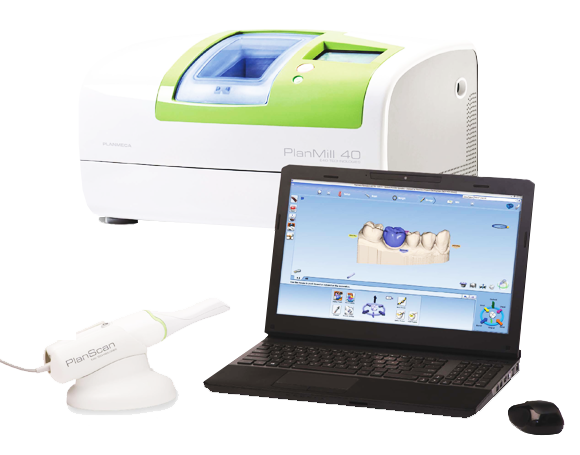 Same Day Porcelain Crowns
Arguably the most exciting breakthrough in dentistry in the last 25 years, Cad Cam dentistry is a tremendous convenience for the dental consumer. Patients who have seen what it can do are thrilled with it. But it's what you don't see that's important – no more mercury fillings, no more messy impressions, and no more temporaries.  Cad cam delivers the highest quality all porcelain dental restorations in ONE visit and with CAD/CAM restorations your smile stays beautiful and natural-looking.
Introducing the amazing CAD/CAM system
CAD/CAM is a system that delivers superb quality porcelain restorations quickly, precisely and efficiently. Just look at these benefits! 
A single-appointment restoration — only one visit needed
An efficient appointment — less time spent in the dental chair
A natural-looking filling — no more silver metal-mouth
A healthier, metal-free filling
No messy impressions or ill-fitting temporaries
A restoration that matches the natural color of your teeth
A restoration that is anti-abrasive, bio-compatible and resistant to plaque
A durable restoration — CAD/CAM fillings don't break or leak like traditional fillings
Proven technology — ten years of clinical research and over four million restorations performed worldwide
CAD/CAM fillings are an enormous advance over traditional silver (mercury amalgam) fillings. CAD/CAM fillings are metal-free, plaque resistant, color matched and bio-compatible. As well, they are so precisely made we can preserve more of your natural tooth tissue when preparing the tooth for restoration.
Schedule Appointment
From Crowns to Cleaning – We Do It All!
Complete the form below and one of our staff will contact you to confirm